KING GEORGE CORRIDOR
Information on the community of King George Corridor
Welcome to the area of South Surrey known as the King George Corridor. Located to the east of the highway, this neighbourhood is blessed with a large range of affordable housing, ranging from mobile homes, condos, townhouses, and single family homes, all with easy access to Highway 99 for your morning commute to Vancouver, Langley, Surrey, Richmond, or the USA. Come explore and learn more about the bustling neighbourhood of the King George Corridor.
No obligation… just helpful information. Scroll down for homes for sale along the King George Corridor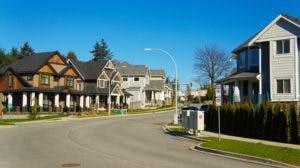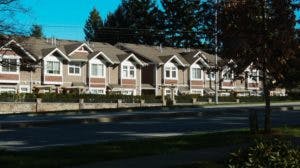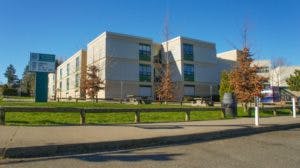 .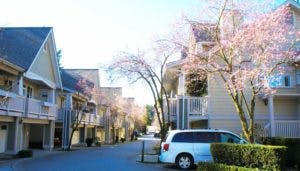 WHERE IS THE KING GEORGE CORRIDOR?
Great question… the King George Corridor consists of the area east of Highway 99 from Highway 91 in the north, down to the Peace Arch Provincial Park at the USA border in the south. The west side runs along 160th Street to 16th Avenue, over to 152nd Street and up to King George Boulevard and back up to Highway 91.

Schools along the King George Corridor
There are numerous educational opportunities for kids of all ages, from pre-schools, elementary schools to high schools, with several private school options available as well just a short drive away. Earl Marriott Secondary School is the largest high school in the area providing great programs and opportunities in a large variety of subjects and draws students from a large catchment area. The drawback to EMS, as its known, is the overcrowding problems caused by rapid population growth in the area. Fortunately a new high school is planned for nearby Grandview Heights which will improve the situation and provide more education opportunities for students in the area.

Sunnyside Elementary School: 2828 159 St, Surrey Phone (604) 531-4826

Jessie Lee Elementary School: 2064 154 St, Surrey Phone (604) 531-8833

South Meridian Elementary School: 16244 154 Street, Surrey Phone (604) 538-7114

Earl Marriott Secondary School: 15751 16 Avenue, Surrey Phone (604) 531-8354

Star of the Sea School: 15024 24th Avenue, Surrey Phone (604) 531-6316

Southridge School: 2656 160 Street, Surrey Phone (604) 535-5056

White Rock Christian Academy: 2265 152 Street, Surrey Phone (604) 531-9186
Want to know how each school ranks according to the Fraser Institute? click here.
Colleges/ Universities Nearby
Kwantlen Polytechnic University

British Columbia Institute of Technology

University of British Columbia

No obligation… just helpful information. Scroll down for homes for sale along the King George Corridor
Parks along the King George Corridor
Peace Arch Provincial Park located at the US border is one of the most unique parks in the area. Dedicated in 1921, Peace Arch Park is unique in the world in that it was the first park that straddled two countries. It was built on the International Boundary between Canada and the United States to commemorate the lasting peace between the two countries. Today the park provides opportunities for walking, indoor and outdoor picnicking and a playground for children. The park entrance and parking area are located off of Beach Drive (behind the Peace Arch duty free store).

Sunnyside Park on 26th Avenue is a great neighbourhood park with a large grassy field, an outdoor pool which is popular in the summer months, tennis courts, sports fields and softball diamonds, and a newer playground for the younger kids.

South Surrey Athletic Park is also nearby, and is home to the South Surrey Arena, and the amazing Sunnyside Acres Urban Forest with its 130 hectares of beautiful walking trails, BMX track and mountain biking trails to challenge riders of all skill levels.
REAL ESTATE MARKET ALONG THE KING GEORGE CORRIDOR
A wide range of places to live…
The King George Corridor has a wonderful variety of homes for sale and a wide range of prices, from economical mobile homes at Breakway Bays where homes can be purchased from prices starting at under $40,000, to condos, townhouses like Hello George, to upscale homes in Rosemary Heights. If you are commuting to Vancouver for work, this is the best area to buy a house and live in South Surrey. As traffic congestion increases due to an increasing population, having quick access to the highway can mean saving 15 minutes from your commute each way.

The most affordable homes in South Surrey are found along the King George Corridor, with single family homes below the average home price in this part of Surrey. However, the area is in transition with many of the older homes being torn down to make room for new and larger west coast and craftsman style homes.

Are you thinking of buying or investing along the King George Corridor? The following information about the area Real Estate market is by top Realtor Joel Ross. If you have any questions on anything to do with King George real estate, please get in touch and we will work with you to serve your real estate needs.
Real Estate Statistics
The average sale price of single detached homes is $1,065,000.
The average cost per square foot is $480.
The average days on market is 9.5
.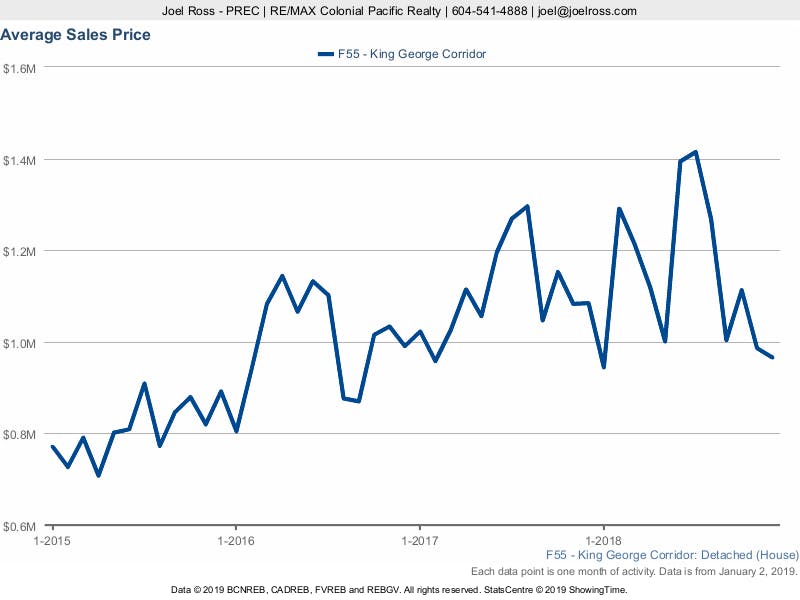 Subscribe to our mailing list