Ocean Park is one of the ultimate lifestyle communities anywhere in BC. What makes it so special? Well … where else are you able to walk to the ocean, walk to parks, and the butcher, baker and coffee maker, all within just a few blocks? Yep – this is the charm of Ocean Park.
Ocean Park is a quiet neighbourhood tucked away at the end of the peninsula where life seems slower, and people actually walk to get their groceries and visit the local pub. The village centre attracts shoppers and has all of the conveniences and stores you could want. And if you're finished your shopping, there are beautiful trails and walking paths that lead you through Cedars and Douglas Fir trees towering in the sky.
Ocean Park residents are known for their love of trees. If you're looking for a neighbourhood where nature is respected and appreciated, then you'll fit in well here. Signs of "Big Trees, Not Big Houses" pepper the area, letting people know that cutting trees down won't make them popular here. While this can cause tensions between residents and builders, it is helping preserve a park-like atmosphere and a strong sense of community.
Ocean Park in South Surrey is located on the Semiahmoo Peninsula in the far southwest corner of the city, surrounded by the waters of Boundary Bay and Semiahmoo Bay. Aside from the neighbourhood being located on the ocean with many of it's homes having gorgeous vistas and stunning ocean views, it is within a 10 minute drive of White Rock beaches, 40 minutes of Vancouver, and 15 minutes to the US border. Welcome to Ocean Park, an active lifestyle community with a friendly small-town feel.
Joel Ross – No obligation… just helpful information. Scroll down for homes for sale in Ocean Park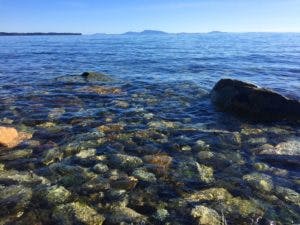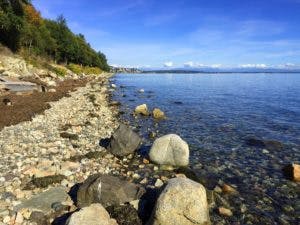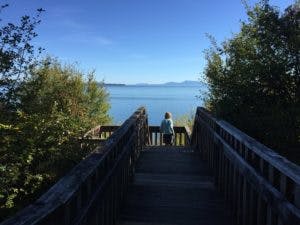 .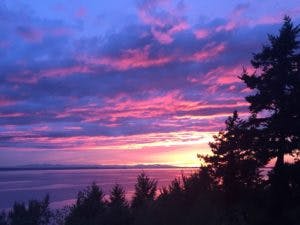 THINGS TO DO IN OCEAN PARK
Ever wanted to live in a place where you never wanted to leave? Then OCEAN PARK just might be the place you've been looking for.

Just look at the name… Ocean Park – its a neighbourhood sandwiched between the ocean and several beautiful park areas, with a number of great restaurants and shops in between… what's not to love?
Ocean Park Parks
Kwomais Point Park is a magical place where you can look out over the ocean from high up on the bluff and watch eagles soar amid the towering trees. There is a network of nature trails that are ideal for the kids, a bike path, as well as walking paths that meander under 80 year old Grand Fir, Douglas Fir and Big Leaf Maples. After a days work, you can stroll through the park or ride your bike through the neighbourhood, then end up on a park bench to watch the sun set over Semiahmoo Bay and the San Juan Islands. This park is also home to the heritage Kwomais Lodge and Sanford Hall, both of which offer a range of programming as well as hall rental for weddings and regular yoga classes.
Fun Fun Park
Okay, how can you not love a park called Fun Fun Park?? In 2015 finishing touches were placed on a fully renovated and updated children's play ground area, and every day it attracts parents with strollers and lots of happy kids (… which means happy parents too). One of the cool new additions is a kids pump track which is like a BMX track but for young kids and aspiring riders.

1001 Steps One of several access points to the ocean, 1001 Steps in Ocean Park is a favourite among locals to go for a shoreline walk along a tidal beach with friends or just for a great workout climbing the stairs after eating too much gelato (see the Crescent Beach neighbourhood page for more on that yummy topic!).
Ocean Park Schools
Highly ranked schools for both elementary and high school students is a big draw to the Ocean Park neighbourhood, attracting home owners who want to give their children a top-notch public school education.

Ray Shepherd Elementary School

École Laronde Elementary School
Restaurants in Ocean Park
There are several great restaurants that the locals love to gather to eat. There are a few "chain" restaurants, but also some very nice locally owned restaurants. Here are several top Ocean Park neighbourhood restaurants to eat.

Ocean Park Village Pub & Ocean Park Pizza Great food, a warm atmosphere, friendly staff and good times are what you find at your Ocean Park Pizza & Village Pub. It's a great place to gather with friends and family, or happy hour(s) in the afternoon. Best part, is you can always walk home!

Malones Delicatessen & Fine Foods Malone's Delicatessen is a fresh take on the classic Salt Cellar. The deli features all your favorite meats, cheeses, baked goods and fresh cups of coffee. Best of all, its always service with a smile.

The Morrison Cafe Since 2007, Morrison Cafe has been serving fresh, handmade food to the people of Ocean Park. Combining classic diner fare with innovative offerings, we take pride in making things the right way – real food made from scratch. Best of all? They've got a great classic station wagon mascot that always makes for a great conversation piece.

Delitalia Owners Penny and son Romolo pride themselves on high quality and authenticity. Nestled in the Ocean Park neighbourhood of South Surrey, Delitalia has been providing a taste of Italy to discerning customers for seventeen years. Walk in (and order their espresso…this is the real deal!) and you'll feel like you've been transported to an authentic Italian cafe in Rome.
Transportation in Ocean Park
TransLink services the Ocean Park area, including the 351 Crescent Beach/Bridgeport Station route. Easy access to Highway 99 means the US border is just 15 minutes away and offers a quick route to downtown Vancouver. Ocean Park in South Surrey has morning and afternoon commuter bus service to Vancouver from TransLink featuring the South Surrey Park & Ride.

Joel was fantastic to work with – he got things set up immediately, helped us stage our house beautifully and the sale happened in two weeks. Tick, done. Not only does he get the job done but he's totally professional, funny and supportive, all at the same time. We highly recommend him." ~ Kristine Theurer and Clayton MacKay, Ocean Park
Shopping in Ocean Park
Local Ocean Parkers can all be found near the Ocean Park Shopping Centre picking up their fresh fruit and veggies from Chan's or Safeway, fresh cuts at Ocean Park Fine Meats, double shot lattes at Starbucks, croissants at Cobs, deli foods at Delitalia, candy for the kids at Sticky's, and treats for mom n dad at BC Liquor Store. There's something for everyone in the family.
Real Estate in Ocean Park
Ocean Park is composed of an eclectic mix of summer cottages and primarily single-family homes, ranging from the modest bungalow to high-end ocean front estates. The area is experiencing changes with older cottages being torn down and new deluxe homes being built in their place. However, many of the homes are of a quality classic craftsman style which blend in well with the character of the neighbourhood and help to retain the character and charm of this seaside community.

There are a small number of townhomes and condominium in Ocean Park, but demand exceeds supply as long term residents of Ocean Park who want to stay in their community and downsize to a smaller home are attracted to these units. Because land is at a premium in this neighbourhood, there will continue to be a shortage of smaller housing for young families and downsizing seniors.

One new development is Westpointe This is a collection of 49 refined single-family homes in South Surrey's beautiful Ocean Park neighbourhood. These new homes offer the chance to live in a new house in an established community, just steps away from the ocean and shopping at your doorstep.

We are currently working with developers who are building new homes in the neighbourhood, so if you're thinking that Ocean Park is where you want to call home, call me to discuss your needs so we can find the right home for you.

Prices range from 1 million for a modest rancher, to multi millions for newer luxurious ocean front estates. Check out the listings below to get an idea of how much houses are selling for in Ocean Park. If you'd like to work with a Realtor who is laid back and LIVES and WORKS in Ocean Park, call Joel Ross (604) 808-2001. No obligation… just helpful information about Ocean Park.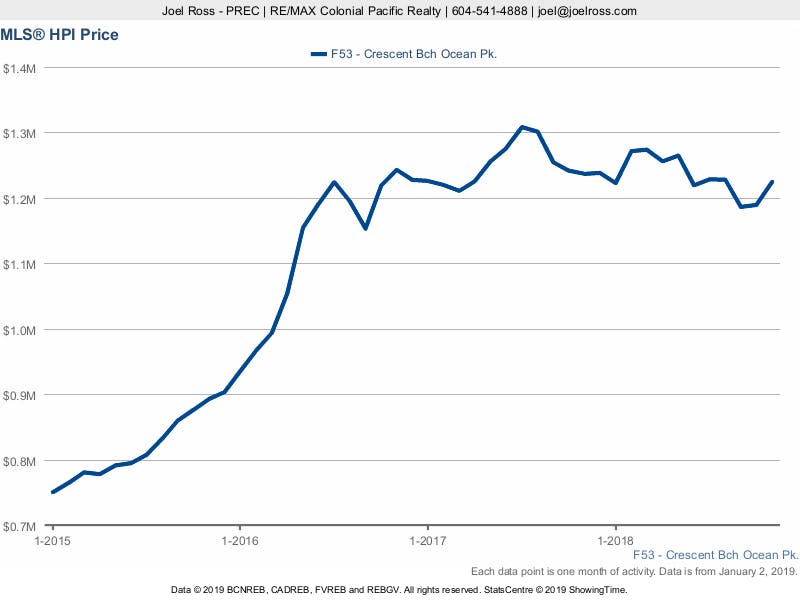 earching Ocean Park homes for sale and wondering

Searching Ocean Park homes for sale and wondering how to go about buying a home? It's important you understand the home buying process in Ocean Park and that you work with an agent that lives and works in the neighbourhood and truly has their finger on the pulse (like me!). If you're looking for a top real estate agent to assist you in buying or selling your Ocean Park house, contact me and I'd love to discuss your real estate needs further.

Subscribe to our mailing list