ELGIN CHANTRELL
Height of Prestige
The Elgin / Chantrell neighbourhood of South Surrey is one of the most upscale, beautiful and park like settings (big BIG trees!) in all of Surrey. Elgin Chantrell is home to many of the most expensive, high-end homes, many situated in gated acreage sized lots – and all beautifully landscaped. Most of the homes in Elgin Chantrell are single-family detached homes. The nearby parks, Chantrell Elementary and Elgin Secondary School are some of the other big draws to this prestigious neighbourhood.
No obligation… just helpful information. Scroll down for homes for sale in Elgin Chantrell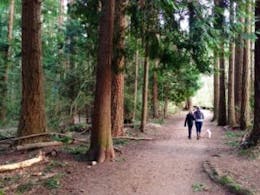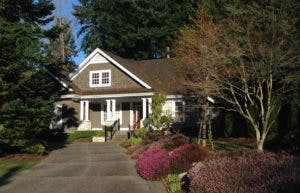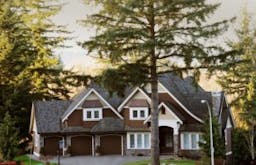 .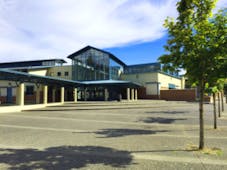 WHERE IS THE NEIGHBOURHOOD OF ELGIN / CHANTRELL CREEK?
Elgin / Chantrell is located in the heart of the peninsula, bordered by the picturesque Crescent Road to the north, 128th street to the west, 20th Ave to the south, over to 140th and back to King George Highway to the east.
Schools of Elgin Park and Chantrell Creek
Some of the highest rated schools are in the neighbourhood of Elgin Chantrell for school aged children from elementary to high school. Many children walk and ride their bikes to these schools through a great network of bike routes and designated trail system through the neighbourhood. White Rock Christian Academy and Southridge Schools both offer exceptional private school options within a short driving distance for families looking for the best schools in South Surrey.
Chantrell Creek Elementary: 2575 137 Street Surrey, BC V4P 2K5 Phone:(604) 535-6708
Crescent Park Elementary: 2440 128 St Surrey, BC V4A 3W3 Phone: (604) 535-9101
Elgin Park Secondary: 13484 24 Ave, Surrey, BC V4A 9V2 Phone: (604) 538-6678
White Rock Christian Academy: 2265 152 St, Surrey, BC V4A 4P1 Phone: (604) 531-9186
Southridge School: 2656 160th Street, Surrey, BC V3S 0B7 Phone: (604) 535-5056
Want to know how each school ranks according to the Fraser Institute? click here.
Colleges/ Universities Nearby
British Columbia Institute of Technology
University of British Columbia
Joel was fantastic to work with – he got things set up immediately, helped us stage our house beautifully and the sale happened in two weeks. Tick, done. Not only does he get the job done but he's totally professional, funny and supportive, all at the same time. We highly recommend him." ~ Kristine Theurer and Clayton MacKay, Ocean Park
Hospitals / Medical Centres near Elgin and Chantrell Creek
Parks near Elgin Chantrell
Crescent Park
In the heart of Elgin Chantrell Creek is the beautiful Crescent Park. Situated on a 128 acre site at the corner of 128th Street and Crescent Road, Crescent Park offers beautiful walking trails (map) through open meadows, past streams and ponds and mature second growth forests. Originally a logging camp until 1947, Crescent Park is now a place of recreation and discovery for the whole family.
Blackie Spit Park
Into watching birds? Blackie Spit Park in nearby Crescent Beach offers some of the best bird watching areas in Canada, with between 200 – 300 different species of birds. The tidal marsh and sandy spit is an important stop for migrating and wintering waterfowl and shorebirds, as they make their way up and down the coastline of North and South America on their annual migrations. Bring your binoculars and guide book and you might be in for a surprise. And while you're watching… check out the soaring eagles busy high overhead. It also has a beautiful 5 KM nature trail system (map) with stunning views of Mud Bay, so walk or bring your bike and take you're time, there's so much to see and enjoy. Oh, and did I mention the Harbour seals and their pups? You'll often see those nearby too!
Nearby boating facility, Crescent Beach Marina offers access to the Gulf Islands and San Juan's, while providing all of the comforts of home. Crescent Beach Marina is a full-service marina complete with all modern services, including moorage, storage, showers and laundry, pump out, washing, fuel and store. For those who don't yet have a boat, they can sell you one of those too.
Other nearby parks and recreational facilities include South Surrey Youth Centre, South Surrey Arena, South Surrey Athletic Park, and South Surrey Bike Park.
No obligation… just helpful information. Scroll down for homes for sale in Elgin Chantrell
Churches in Elgin Chantrell
There are several great churches in the Elgin Chantrell neighbourhood and surrounding areas to connect with God and the faith community. If you're new or thinking of moving to the neighbourhood of Elgin Chantrell, check out some of the services at these local churches. Some church services are also conducted in Chinese for the growing Christian Chinese community in South Surrey.
St. Mark's Anglican Church is an active community based church on 20th Avenue in the heart of Elgin / Chantrell.
White Rock Baptist Church on 16th Avenue is a vibrant and community oriented church with active outreach and programs for youth of all ages.
Life Church in White Rock is an evangelical faith community church with international missions involvement.
Gracepoint Church is located minutes away and is a family based church with ministries for the whole family.
Peace Portal Alliance Church located at 152nd and King George Boulevard has numerous activities and ministries in a caring environment.
Restaurants near Elgin and Chantrell Creek
Belle's on 32nd Ave is a local's favourite where they make fresh pre-made panini and pizza, great coffee and a cozy atmosphere and patio for a light meal anytime.
Delrios Restaurant is another local favourite that's located in nearby Ocean Park village serving great food with quality ingredients.
Ocean Park Village Pub is a great place for lunch, dinner and happy hour, located at the corner of 128th Street and 16th Ave.
Maguroguy Sushi & Grill is a favourite sushi restaurant with raving reviews. If you like sushi, you need to check this place out.
Weather
South Surrey is known for its temperate year-round climate that sees more sun and less rainy days than nearby Vancouver due to the fact it is further away from the Coast Mountains. In fact, Elgin Chantrell Creek receives 20% more sunshine than Vancouver, and the area is often referenced as the Donut-in-the-Sky due to the microclimate in the area. Summer daytime temperatures average 23 celcius and 6 celcius in the winter. What's not to love about that!
Shopping near Elgin and Chantrell Creek
Elgin Corners features a Elgin Corners Dental, Living Wellness Centre, gift shops, an exercise club, a coffee shop, a hair salon and more and is located at 140th Street and 36th Avenue. And a short drive away you will find Grandview Corners, The Shops at Morgan Crossing and Ocean Park Village for everything from banking, restaurants, Walmart, Home Depot and clothing outlets.
No obligation… just helpful information. Scroll down for homes for sale in Elgin Chantrell
Overview of Real Estate Market in Elgin Chantrell
Elgin Chantrell is one of the most prestigious neighbourhoods in South Surrey, with a mix of newer built homes and mansions on multiple acre properties. Thinking of buying or investing in the South Surrey neighbourhood of Elgin Chantrell? The following information about the Elgin Park and Chantrell Creek area Real Estate market is by top Elgin Chantrell Creek, South Surrey, Realtor Joel Ross. If you have any questions on anything to do with Elgin Chantrell real estate, please get in touch and we will work with you to serve your real estate needs.
Real Estate Statistics
The average sale price of homes is$1,990,850.
The average cost per square foot is $466.
The average days on market is 46.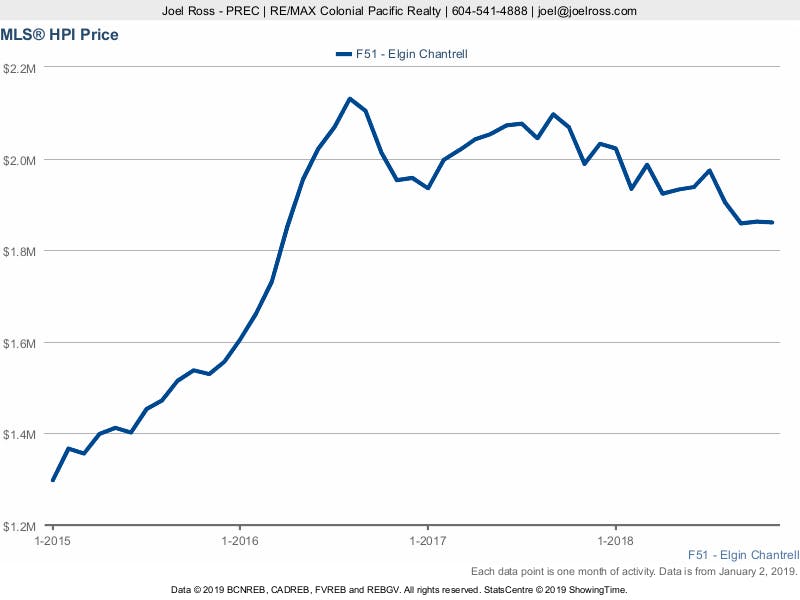 Looking to move to Elgin / Chantrell Creek or looking for homes for sale in the neighbourhood? It's important you understand the home buying process in Elgin Chantrell and that you work with an agent that lives and works in the neighbourhood and truly has their finger on the pulse (like me!). If you're looking for a top real estate agent to assist you in buying or selling your Elgin / Chantrell house, contact me and let me know how I can help you reach your real estate goals.
Subscribe to our mailing list